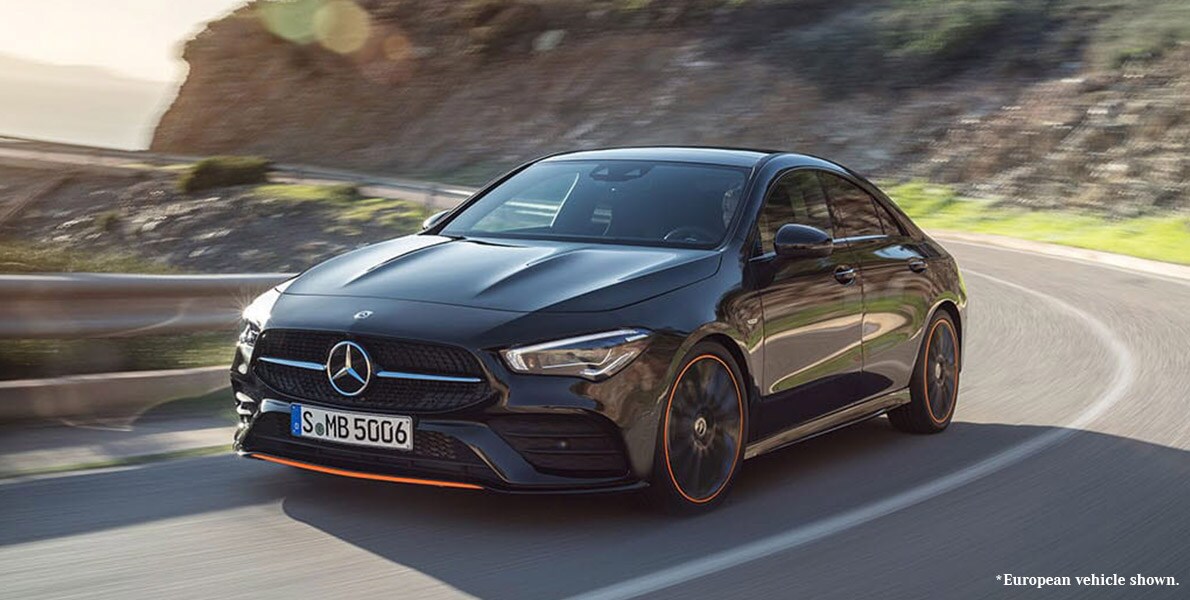 Sell Or Trade Your Car
Get a check or use as a down payment! Offer is good for 3 days, no obligation.
Get Started
Shop Now
We make leasing a new car as easy as buying a cell phone. Home delivery available!
Get Started
Lease Return Center
Drive in, drop off the keys and you're done, it's that easy to return your leased BMW.
More Info
The 2020 Mercedes-Benz CLA 250 is where luxury meets cutting-edge design and precision craftsmanship. The team of professionals at your Mercedes-Benz dealer in PA is ecstatic that we have this striking vehicle in our inventory, and we are eager to share our excitement with you. We encourage you to visit us and discover the new 2020 Mercedes-Benz CLA 250 lease options available to you today. The 4-door Mercedes-Benz CLA 250 coupe is sure to make an impression, with its decadent and curvaceous lines, and both you and your passengers alike will relish in the opulent interior. Whether you are navigating through rush hour traffic, heading out of town for a weekend retreat, or dropping the kids off at school, the new 2020 Mercedes-Benz CLA 250 will ensure you always arrive at your destination with elegance and style. When you visit Tom Masano, Inc. to partake in our Mercedes-Benz lease deals, you'll be able to choose from 2 captivating trim levels: the Mercedes-Benz CLA 250 Coupe and the Mercedes-Benz CLA 250 4MATIC Coupe. Here at your local Mercedes-Benz dealer in PA, we are eager to demonstrate this alluring luxury car lineup and how the features and specifications will send your driving experience soaring to new heights.
2020 Mercedes-Benz CLA 250 For Lease
Unparalleled performance, superior capability, and lush opulence are meticulously engineered into Mercedes-Benz CLA 250 models. This 4-door coupe is the pinnacle of streamlined automobiles and boasts a 2.0L inline-4 turbocharged engine that generates a healthy 221 horsepower and 258 lb-ft. of torque. This beautiful powertrain is paired with a 7-speed dual-clutch automatic transmission and standard driver-assist features that makes for seamless transitions and handling. The expert staff at Tom Masano, Inc. are looking to tell you all about the fantastic Mercedes-Benz lease specials available. The luxuriant interior is truly sensational and will envelop everyone within the cabin in sumptuous comfort wherever your adventure leads. Whether you travel near or far, you will have confidence in knowing you can stay in touch with the world around you, and both you and your passengers will be entertained with an array of top-notch technologies. The Mercedes-Benz brand recognizes that safety is paramount when navigating on the road, and you'll be thrilled with the suite of protective components that are available to you and your loved ones. Features like Active Brake Assist, ATTENTION ASSIST®, Crosswind Assist, and Adaptive Braking Technology with Hill-Start Assist, all work concurrently to ensure safe travels. Visit your Mercedes-Benz dealer in PA today and experience the pleasure of the new 2020 Mercedes-Benz CLA 250 firsthand. 
Visit Your Mercedes-Benz Dealer in PA
Tom Masano, Inc. is proud to support local Mercedes-Benz drivers in Reading, Berks County, Schuylkill, Montgomery County, Pottstown, and all nearby areas. We invite you to browse our vast inventory and discover our Mercedes-Benz lease options that match your driving needs and desires. On-site we have a manufacturer-trained service team that will help ensure your Mercedes-Benz is performing at its optimal level, like it just came off the production line. Visit your nearest Mercedes-Benz dealership, and we look forward to providing you with the ultimate Mercedes-Benz experience.