Why Service With Us?

Get Mercedes-Benz Car Service!
Mercedes-Benz car service? Have you been looking for unparalleled automotive service for your beloved Mercedes-Benz model but are not sure what the best option is? Then you should start making your way to Tom Masano, Inc., a Mercedes-Benz dealer! We are immensely proud to be your premier Mercedes-Benz service center in Reading PA and provide you with the amazing maintenance you deserve. Whether you need crucial work, like synthetic motor oil replacement*, or if you are in need of more extensive repairs, your local Mercedes-Benz service center location offers a diverse catalog of maintenance work and will help you get past each step. Our highly-experienced team is ready to truly optimize your performance and get you right back on the road with a massive smile on your face. Schedule your next service appointment today!

Why Choose Us?
That's an excellent query to pose to yourself because there are so many different choices out there. One crucial fact to know about your top Reading PA Mercedes-Benz service center is that we place great emphasis on integrity. We only employ service technicians that meet the rigorous standards of the Mercedes-Benz brand and those technicians are continually receiving updates to their training. We also only use OEM-certified parts in every single repair that we perform on your vehicle because no shortcuts should ever be taken when it comes to automotive care. You will find two tiers of maintenance at your local Mercedes-Benz service center location: A Service and B Service*, with each containing its own list of services. Be sure to reach out to the dedicated service staff at Tom Masano, Inc., a Mercedes-Benz dealer about which tier is the right fit for you!
Mercedes-Benz Car Service Center
The committed team at your fantastic Mercedes-Benz service center in Reading PA has one mission: ensuring the health of your Mercedes-Benz model always stays intact. How we accomplish that includes:
• Conducting work like brake repairs, tire rotations, battery replacements, oil filter replacements and much more.
• Using only the most advanced technologies for all of our analyses and diagnoses.
• Answering every question you have in a clear and transparent manner.
• A whole lot more!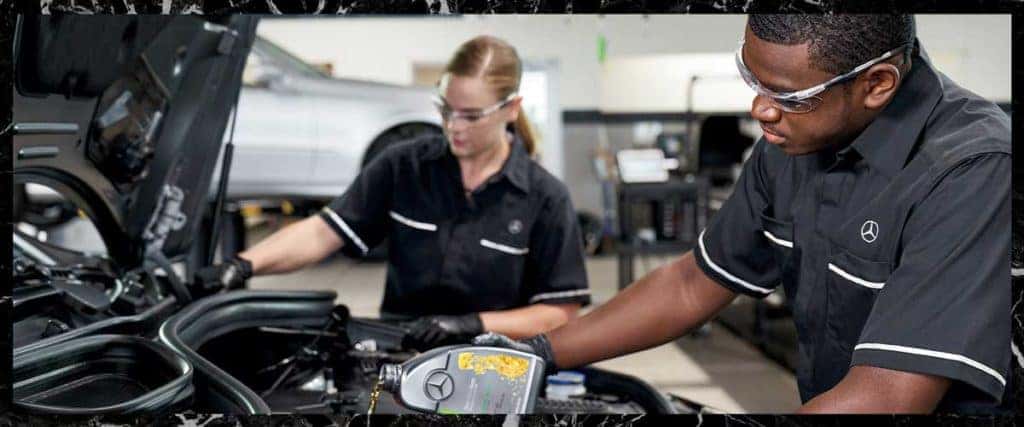 Schedule Service Today!
Here at Tom Masano, Inc., a Mercedes-Benz dealer, we cannot wait to get started on enhancing how well your Mercedes-Benz model handles the road. Contact your Reading PA Mercedes-Benz service center for your next maintenance appointment today!
*Price advertised for Service A/Service B includes all factory-required components. Please refer to your maintenance booklet for the complete list of factory-required services and details on the specific intervals for your vehicle's year and model. (Valid for MY09-newer).